Aloha!
It's been a long time since my last newsletter—over seven months. I don't have any new publications to report this time, but I do have some news, an upcoming event, and a giveaway that I wanted to share with you. Read on for the details...
Linda Nagata
MythicIsland.com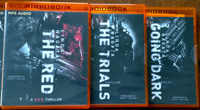 Audio CD Giveaway
Earlier this week I was very surprised to receive in the mail a box with CDs of the audio edition of The Red trilogy, as narrated by Kevin T. Collins. Audiobooks of the trilogy have been available as downloads at Audible, but there was no CD edition and I wasn't really expecting one. I'd been told it could happen, but don't hold out hope. So it happened! Cool!
To celebrate, I'm going to give away one set of CDs to a current newsletter subscriber, and one set to a new subscriber. If you'd like to enter for a chance to win, just reply to this email and let me know. I'll add you to the list of interested subscribers, and at the end of the month I'll randomly choose one person from the list to win a set of CDs.
io9 .com Online Q&A
Back in early May, io9 .com put up a post restarting their online book club, and their book of choice was The Red. This Saturday, June 18, around noon eastern time, io9 .com will host a follow-up event—an author Q&A.
If you're online on Saturday, please stop by to post questions or participate in the discussion. You don't have to be there at any specific time. I'll be checking back throughout the afternoon and evening. I'll post a link to the Q&A on my blog, when it becomes available on Saturday.
Going Dark—a Campbell Award Finalist
The list of finalists for this year's John W. Campbell Memorial Award was just released, and I'm very pleased to report that Going Dark was included.
Back in 2014, The Red: First Light also made the list.
The Campbell Memorial award honors the best English-language science fiction novel published in the prior year.
For the full list of finalists, and information about the award, visit the Gunn Center for the Study of Science Fiction.